DAVID CONNOLLY pays tribute to Alistair Graham, an ILPer for more than 60 years, who died on 27 February after a lifetime dedicated to the Labour and peace movements.
I would like to pay this tribute to Alistair on behalf of the ILP. Alistair was a stalwart and highly respected member of our organisation for more than 60 years, consistent in his commitment to the Labour and peace movements and the ultimate creation of a socialist society.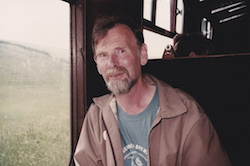 He was recruited to the ILP by the late Eric Preston after they had been arrested at a CND demonstration in the early 1960s. No doubt, whatever Eric said as they sat in the back of the police van, Alistair would have given it a great deal of thought before joining.
A few years later Alistair and his partner Anne-Marie formed an ILP branch in Halifax when it was still a political party. This led Alistair to stand as an ILP candidate in the constituency in the general election of June 1970, in opposition to the Labour Party.
He goes down in history as the last ILPer to do that, winning 847 votes. But it was also controversial as Labour retained the seat with a majority of 198 and in the mid-70s, when the ILP returned to the Labour Party, Alistair's application for Labour membership was blocked for several years.
Endless patience
Alistair served on the Editorial Board of the ILP's newspaper, Labour Leader, and became editor in the 1970s. Needless to say his patience in dealing with writers and printers was endless. And this was in the days when headlines were created with Letraset.
In 1976, the ILP published his pamphlet Northern Ireland – The Unsolved Problem, From Civil Rights to Sectarianism, which challenged many of the orthodox left assumptions about the nature of the conflict there.
And in 1982 we printed It's Not Your Duty to Die: Nuclear Disarmament and the Birth of Protest, a history of an earlier generation's campaign to avoid Armageddon.
Alistair served on the ILP's National Administrative Council for many years and in recent times was still a regular attender with Ruth at our Annual General Meetings in Scarborough and Sheffield.
He always made highly considered, analytical and well-informed contributions to our discussions and, however intense the debates, always remained calm and unflappable.
We have lost a great friend and a steadfast comrade who, as earlier ILPers put it, 'lived for that better day'.
We send our condolences to his family.
—-
David Connolly is chair of Independent Labour Publications.
More photos and contributions from friends and family can be found on Alistair's tribute page.