Sheffield-based co-operative resource centre Principle 5 has re-published an historic pamphlet celebrating the first six years of Labour control of the Yorkshire city's local council, a period of social progress that lasted from 1926 to 1932.
Six Years of Labour Rule in Sheffield is the fourth in Principle 5's series of re-publications following its reprints of two pamphlets by Edward Carpenter, Sheffield and Socialism and Co-operative Production, and Alice Honora Enfield's The Future of Co-operation.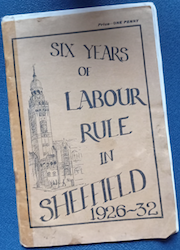 Six Years of Labour Rule was originally published in 1932 by members of the Labour Group on Sheffield city council shortly after they had been ousted from office by "anti-Labour" forces. The pamphlet was "crucial" to [Labour's] return to local power a year later, according to a December 1933 issue of the Sheffield Co-operator, which described the manifesto as clearly presenting voters with the group's "forward and constructive policy".
"It is difficult now to comprehend the sheer amount of work undertaken by the council in those years," write Principle 5 in its foreword to the new edition.
"Slums were demolished. New houses were built. New maternity and child welfare facilities led to a 12-fold increase in attendance. New markets were erected, new roads built, tram routes extended, new swimming pools, new libraries, new schools, new workshops for the blind. A new city hall.
"These were years of intense work, overseen by the new Direct Labour Department, which brought many services in-house and eliminated the 'middlemen'."
Re-publication of such a manifesto is "timely" they write, as we are "once again faced with a crisis in the health and wellbeing of the nation.
"Our housing stock is riddled with damp and mould. There is not enough well-paid work to go around, meaning people cannot build their own wealth or achieve the peace of mind which allows them to flourish. Benefits are too low to sustain a healthy diet and heat homes. The National Health Service is in crisis."
Such words echo those of David Blunkett, then leader of Sheffield council, who prefaced the pamphlet's 50th anniversary edition in 1982 by likening the "unemployment and cuts in living standards" of his period in office to those of the 1930s, with "'anti-Labour' forces raising their heads once again to throw back the forces of progress".
For Principle 5, "the strategy of the Co-operative Party and the Labour Party in the 1920s and 1930s was the Community Wealth Building of its day", and the re-published pamphlet "speaks of a moment when the working citizens of Sheffield finally realised the myth of Conservative and Liberal competence in administration, governance, and financial matters.
"They decided to take matters into their own hands," they add. "Today, we can learn from their example as we seek once again to regain control of our lives."
—-
Six Years of Labour Rule in Sheffield, 1926-1932 is available for £5 from Principle 5, Yorkshire Co-operative Resource Centre, Aizlewood's Mill, Nursery Street, Sheffield S3 8GG.
The other pamphlets in Principle 5's series of re-publications are available here.
The centre's directory of Sheffield Co-operators can be viewed here.