Various Labour leaders have been and gone since she first joined the party more than 40 years ago, but come election time MARY HULL has always been an enthusiastic, door-knocking campaigner. This time is different. Here she explains why the Starmer leadership has tested her loyalty to the limit.
I have always enjoyed canvassing. For some, I know, it is the last thing they want to do but I love the interaction, the chance for debate, the anger, the passion … everything except, perhaps, indifference.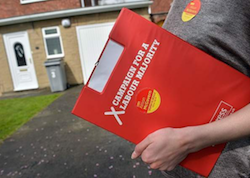 I've tried telephone canvassing, it's just not the same. Face-to-face, trudging around, knocking on doors wins every time. It is part of living, breathing politics. It is when you get a chance to find out what people's concerns are, when you can, with a degree of certainty, argue that Labour is the party to address those issues, the party with policies to turn the country around and drag it from the depths to which it has sunk under the latest woeful Tory government.
Jeremy Corbyn was never my leader of choice, but even in 2019 I could argue on the doorstep that Labour had a raft of comprehensive, clear and exciting policies that would make a real difference to people's lives.
Now I feel robbed, robbed and angry. My local branch puts out calls for canvassers and I find myself unable to respond. What can I say on the doorstep? As Keir Starmer dilutes or U-turns on policy after policy, I feel increasingly alienated from the party I joined as a student in 1982.
At a time when the country is on its knees; when the disparity between rich and poor grows exponentially; when the basics of shelter, warmth and food are no longer a given for vast swathes of the population; when we treat people seeking asylum worse than criminals; and the climate crisis is threatening our very existence … I have run out of words.
I can, of course, berate the Tories forever and a day with a heartfelt passion. But that is not good enough. "What will you do that's any different?" people asked on my last canvassing effort three months ago. "You're all the same. What's the point of voting?"
They have a point. Labour's recent record is hard to defend: wealth tax – dropped; green new deal – diluted; two-child limit on child benefit – retained.
What sort of message is this? What was wrong with Keir Starmer's original 10 pledges? Why is the party running scared at a time when the door to number 10 has never been more ajar?
It feels to me that people are hungry for change, real change signalled by bold clear policies. But the Labour Party is grossly underestimating the electorate. As academic and author Kate Pickett argued in a recent Guardian article, Labour does not have to condemn us to more austerity; there is another path and a huge opportunity to do things differently.
"This period of opposition should be one in which they can influence the public narrative on the economy," Pickett wrote. "They can use it to explain why spending actually benefits everyone and stimulates the economy, rather than holding it back. They can make the moral case for progressive taxation. They can debunk the myths that the national economy is in any way analogous to a household budget. And they can tell voters why our shared humanity dictates that we must increase social security and ensure that everyone can lead a good life."
Like Pickett, Owen Jones also thinks the electorate is ready for bolder policies. People see austerity as having failed and believe the need for a wealth tax is both obvious and moral. Jones refers to Starmer's reluctance to promote these policies as a "tragedy". Tragic indeed.
Overbearing
But it's not just the policy approach that's leaving me speechless; it's the overbearing style of leadership and the threat to party democracy.
I supported Jamie Driscoll as Mayor for the North East and was appalled when he was dropped from the shortlist. I admired Neil Lawson, his belief in the importance of listening and debate, and am appalled by his threatened banishment from the party.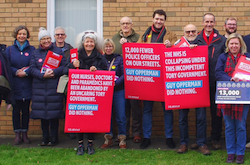 And in my local constituency of Hexham (pictured left), where we hope to oust the incumbent Tory MP, we are waiting to find out who our candidate will be, fearing we'll have yet another person foisted on us rather than the chance to choose someone local.
Many of my friends are – reluctantly, with anger and frustration – leaving the party. Friend after friend tells me it is not their party anymore, that it doesn't represent them or how they feel, that it is no longer a broad church that welcomes debate, but a sanitised, controlled organisation imposing candidates and banning dissenters.
Of course, some see things differently. Some members argue vehemently that all that matters is for Labour to get into power – anything is better than the current government. Once in power, they say, Starmer will become more radical. But I have no faith that will happen. Where will his mandate be?
And anyway, I am not interested in power at any cost – the end does not and never has justified the means. As the ILP has long argued: "The extent to which Labour can realise its radical potential will depend on the strength and depth of its internal democracy…
"Our political actions must uphold the principles by which we stand. The character, actions and ethics of political movements and parties must prefigure the change they will create … they have an obligation to act with morality, honesty and self-criticism."
So I have run out of words, and almost out of patience. I too have been teetering on the verge of leaving the party. Teetering, but not falling, for an ILP friend had some wise words recently that pulled me back from the edge. "It's not their party," she said. "It's my party and it's your party. Don't play into the hands of the right wing. Stay and fight for what is important."
So I will. I may not be ready for the doorstep just yet, but I will dust myself off, take part in the ILP fringe meeting at Labour conference and keep working for the ethical socialism I believe in.
—-
See also: 'A Tale of Two Keirs: Labour & its Broad Church' and
'Safety First: Keir Starmer & The Road Ahead', both by David Connolly.
Don't miss: 'Does Labour's Broad Church Have a Future?', the ILP's Labour conference fringe meeting on Tuesday 10 October. Details here.