It may be a centrist approach, but the Labour leader's recent Fabian pamphlet does at least reveal the three prongs of his electoral strategy. DAVID CONNOLLY assesses a flawed and uninspiring statement.
Keir Starmer's essay, The Road Ahead is essentially a statement of the political centre designed to do two things.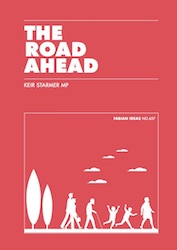 First, having marginalised the left in the Labour Party, it sends a message to the business leaders of "a brilliant innovative private sector" that a future Labour government will "have their back". In Starmer's view, business has been let down by the Tory government but Labour will work in partnership with them and any critique of capitalism offered during the Corbyn years (there is none in this essay) no longer applies.
Secondly, in attempting to reinvent the 'big tent' politics of the Blair/Brown period, Starmer hopes to re-create the very broad coalition of support achieved by new Labour at its peak in the 1990s and thereby give the party a fighting chance at the next general election.
In short, conventional wisdom about the economy is back, the 'grown-ups' are in charge and the general direction of the 'Ten Pledges' of his leadership campaign is now of historical interest only.
However, there are proposals in the new strategy, some specific but others quite vague, that address traditional Labour concerns. These include commitments to:
fair pay for fair work (an echo of Harold Wilson)
a level playing field for enterprise, a skilled workforce and a modern infrastructure
a 'New Deal for Working People', which would increase the minimum wage, ensure rights for all workers from day one, ban fire and rehire, close loopholes in employment law, strengthen rights to trade union representation and guarantee work or training for young people
replace universal credit and reinvigorate the social security system
a "huge investment" in green recovery
put power and control in the hands of the people, whether at work, when accessing public services, or over the decisions that affect their lives (although there's no indication as to what this might mean in practice)
end government departments' refusal of Freedom of Information requests
introduce a new Race Equality Act
put wellbeing and mental health at the heart of government decision-making
ensure people have lifelong education and training opportunities, include 'soft skills' in the school curriculum and extra-curricular activities so that every child gets the chance to play an instrument, engage in competitive sport, visit the seaside and go to a cultural institution
give victims of unresolved anti-social behaviour the same rights as victims of crime.
On this basis, Starmer believes that if Labour can ally with big business, neutralise the opposition of the establishment, and retain the support of Labour's 2019 voters he will have the basis for electoral success.
Tall order
It's a tall order, of course, but not impossible given the fragility of a section of Tory voters who are very uncomfortable with the blatant corruption of Boris Johnson's government, as recent opinion polls have indicated.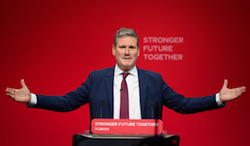 But there is a piece of the jigsaw missing and that is the 'red wall' voters who abandoned Labour in 2019, those who retain a strong emotional link to Johnson because of the lasting effect of Brexit in English politics. The fall in Tory support in these areas is, as yet, nowhere near as great as in those such as Amersham and Chesham where the Tories lost a by-election.
To appeal to these red wall voters, Starmer embraces "patriotism" while simultaneously attacking the "multi-headed hydra of nationalism", as expressed by contemporary Conservatism and the Scottish nationalists. He argues that "nationalism is the flag as a threat" but "patriotism is the flag as celebration" because "patriotism and nationalism are not the same. In fact, they are opposites."
In a country that has remarkably little understanding of its destructive imperial past, this is a convenient but highly misleading formulation.
Starmer goes on to describe nationalism as "one arm of the rise of identity-based politics in the western world that has done immense damage to the progressive cause", although unfortunately without making it clear that there are some forms of hard-fought identity politics (anti-racism and feminism, for instance) which have been enormously insightful and beneficial over the decades.
His benevolent notion of patriotism is a break from new Labour's uncritical embrace of globalisation. His promise is to "ensure we buy, make and sell in Britain" and that "public bodies give more contracts to British firms both large and small, reporting on this annually". Public bodies, he writes, should be "required to explain how much they are buying from British business" – a distinct echo of the Labour government's 'I'm backing Britain' campaign in the 1960s.
Thus, we have the three legs of Labour's electoral strategy:
an appeal to the political centre ground
commitments that give core Labour voters something to vote for, as minimal as they may be
a version of British patriotism that might re-open communication with the many red wall voters who deserted the party in 2019.
In his own words, this is an attempt to paint Labour as "Britain's bricks and mortar – a symbol of solidarity, reliability and shelter", the attraction of which, in an ever more dysfunctional and increasingly fragile world, should not be underestimated.
Meagre remains

This is not the bold radicalism of 2015-19 – it's a safety-first approach that is obviously much closer to Starmer's own politics than the Corbyn-lite policies he adopted for his leadership election campaign.
In an age of big and divisive choices, Labour needs to energise its base. But as Novara Media's Ash Sarkar commented, The Road Ahead offers the kind of unity more likely to send Labour into "a politically induced coma". She has a point.
There are no new ideas here, which isn't too surprising since the Labour right has been living off the meagre remains of the Blair years for a long time. And projecting Labour as a safe pair of hands in contrast to the chaotic nature of the government, as witnessed by the astounding Owen Patterson affair, is an obvious route for a centrist to take.
Indeed, recent opinion polls have been more favourable to Labour due to the growing negative perception of Johnson. As John Gray wrote in the New Statesman, "In turning from market liberalism to state intervention, Johnson has put public safety in his hands. A loss of trust in him, for whatever reason, is his greatest threat."
But as Gray also points out, "Keir Starmer's response has been to revert to something like Blairism, without any of Tony Blair's formidable political skills. An effective but plodding lawyer, he has nothing of the nimbleness of mind needed to snatch opportunities to damage the government."
That said, with inflation on the rise and interest rates expected to increase soon, the government's reputation for economic management will come under severe pressure this winter. There will be an opportunity for the opposition to do some damage, aided and abetted by Johnson's endless capacity for magical thinking when it comes to projects, policies and delivery.
With the level of SNP support unlikely to fall in the foreseeable future Labour's electoral challenge in England and Wales is much greater than it was in the 1990s. We can at least agree with Starmer that, "the scale of the challenge is vast".
Whether The Road Ahead provides him, and Labour, with the map to meet that challenge remains to be seen.
—-
David Connolly is chair of Independent Labour Publications.
See also: 'Can Keir Starmer Unlock The Road Ahead' by Harry Barnes, and 'Fade to Mauve: Starmer's Leadership One Year On' by David Connolly.