The Selina Cooper project and exhibition at Nelson's Unity Hall will finally open to the public this Saturday with a launch event to celebrate the history of the building, and the community of ILPers and socialists who built and ran it more than 100 years ago.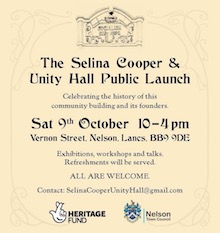 The hall, recently renovated and re-opened by Nelson town council, was for many years known as the Socialist Institute, headquarters of the local ILP, and Cooper was one of two women who had laid the foundation stone in July 1907.
A founding member of the ILP and leading suffragist, Cooper worked as a millhand in the Lancashire town from the age of 11, and became involved in the struggle for workers' rights and representation, health care and education.
She went on to become the first woman to represent the ILP when she was elected as a Poor Law Guardian in 1901 on a joint ticket with the Social Democratic Federation.
A lifelong campaigner for peace and socialism, she died in 1946 and a blue plaque was mounted on her old house in Nelson's St Mary's Street in 1996. In 2015 she was the subject of a local play called 'Hard-Faced Woman'.
For the last three years Kevin Webb and his brother Gary have been working hard to establish an exhibition in Cooper's honour and launch an education project about her and the history of the Socialist Institute, aided by project worker Charlotte Bill.
Two years ago they won £50,000 from the Heritage Lottery fund, only for their efforts to be stalled by lockdown and ongoing restrictions of the Covid-19 pandemic.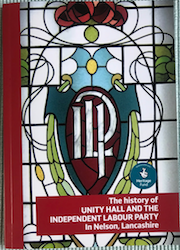 Originally planned for spring 2020, then June 2021, the hall will finally re-open this Saturday complete with the Cooper exhibition; four replica stained glass windows displaying the old ILP logo; a mural depicting key events in the building's history; and a reconstruction of the 'people's library' created by the founders.
A new booklet on Nelson ILP and the hall's history has also been published (pictured left) while Charlotte is leading a series of education sessions in local schools and colleges.
"This building is a wonderful legacy for Nelson's community with its reading room, archive and Revive café," she said. "It's ready to welcome everyone in, just as the founders intended in 1907."
The  launch event, including workshops and talks is on Saturday 9 October between 10am and 4pm.
Contact: selinacooperunityhall@gmail.com for more details.
—-
See also: 'Pioneering ILPer Selina Cooper to be Honoured in Nelson'.