The lives and achievements of ILPers and ethical socialist pioneers Ada and Alfred Salter are to be celebrated with a year-long series of events in south-east London where the Salters led their 'Bermondsey Revolution' in the early decades of the 20th century.
The Salter Centenary Project will mark the 100th anniversary of Alfred Salter's election as a Labour MP in November 1922 when Ada also made history by becoming mayor of Bermondsey, making her the first woman mayor in London and the first Labour woman mayor in Britain.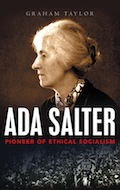 The brainchild of Sheila and Graham Taylor, whose acclaimed biography of Ada Salter was published in 2016, the project has won cross-party backing from Southwark Council and is supported by the Quaker Socialist Society and the ILP, plus many other local and national organisations.
Graham's book, Ada Salter: Pioneer of Ethical Socialism, helped to resurrect the memory of Ada and her impact on the community around her, including her 'beautification' of London slums with trees, flowers and music; her children's playgrounds and model housing; and her defence of dockers and factory workers from dreadful pay and conditions. She also fought against conscription and spent a lifetime struggling for women's equality and world peace.
Graham's book described in detail how she worked selflessly over decades for the people of Bermondsey and London alongside her equally dedicated husband, a noted MP and innovative doctor, whose work for the poor prefigured the National Health Service.
The project's ambitious programme kicks off on 10 January, when Graham leads a Quaker Socialist Society online discussion of his book. That will be followed by an imaginative series of events designed to remember the Salters' remarkable legacy in putting ethical socialist ideas into practice in a local setting, while highlighting their continuing relevance today.
"Our aim is not just to celebrate what the Salters did a hundred years ago," explains Sheila, who is coordinating the project, "but to connect their concerns with the issues of today, ones that remain highly relevant and vital, not only locally, but nationally and globally too."
Three themes
Based around three themes of environmentalism, housing and public health – areas where the Salters' groundbreaking ideas made a major difference to working people's lives a century ago – the plans encompass everything from talks to walks, bike rides to theatre events, including cricket matches, picnics, pamphlets, tea parties and tree-planting initiatives.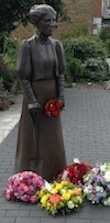 Alfred's birthday on Sunday 19 June will be marked by a cycle ride from Southwark to Fairby Grange, the 17th century farmhouse (now care home) run by the Salters as a plant nursery and convalescent centre for the Bermondsey poor, while Ada's birthday on 16 July will be celebrated by an evening of women's stand-up comedy.
Southwark Council will host a 'civic day' in honour of the Salters on Saturday 10 September when representatives of Ada's hometown of Raunds will be guests of honour along with the Raunds Temperance Band and members of the town's local history society.
Events that day  include the opening of a children's orchard, a bandstand concert in Southwark Park, a tea party in Ada's Wilson Grove Estate (where she built model public housing), speeches at the Salter statues on the banks of the Thames, and a performance of the play 'Red Flag Over Bermondsey' at Sands Film Studios.
Plans are also in train for a week-long celebration of Ada's life at Southwark Playhouse in October, including three performances of a new drama in the 300-seat venue.
Organiser John Whelan, director of the People's Company community theatre group, says the festival aims to "animate Ada's life and commitment to the people of Bermondsey through a newly devised play, workshops, talks and art-based responses to this important part of our local history".
Other activities to mark the year include 100 new street trees planted around the borough, primary school history lessons on the Salters, and a touring exhibition devised by the Southwark Local Studies Library.
A new website dedicated to the Salter Centenary Project is due to unveiled early in 2022.
—-
For more information contact Sheila Taylor via sheilataylor42@gmail.com.
More details of the Salter Centenary events will be published on the ILP website in due course.
Graham Taylor's ILP pamphlet, Ada Salter and the Origins of Ethical Socialism, is available here for £4.00.
A review of Graham Taylor's biography of Ada Salter is here.
His ILP profiles of the Salters are here:
'Ada Salter – Sister of the People'
'Alfred Salter & the Bermondsey Revolution'.